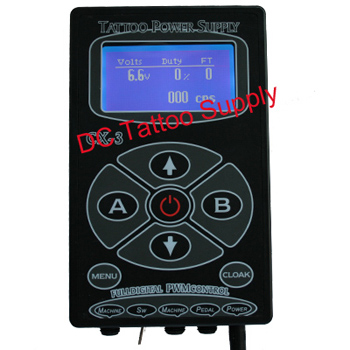 Advanced digital micro-processor controlled unit.

a.. Can adjust voltage increments from 0.1v, 0.2v or 0.5v. Easier to manage voltage changes compared to other power supplies. Precision regulated voltage output 0-18v
a.. 2.3 amp Overload protection built in.
a.. Liner and shader presets with 2 machine and 4 machine memory modes.
a.. Comes equipped with 24 hour clock
a.. Stop watch feature to monitor time in session.
a.. Smart pedal technology: Continuous mode (push on and off) or conventional pedal function.
a.. Non volatile memory (holds time and presets even when power is removed)
a.. Universal input 110-240vac 50/60Hz (comes with US plug so plug adaptor is needed, but transformer is not required)
a.. LCD Display with volts, amps, speed, duty cycle, and follow through.
a.. Easily bagged with typical machine or bottle baggies
a.. G.W:1.2Kg
a.. Machine Size:18*10.6*3.1cm
Comes with: Stand, AC Power Cord and Manual.
This machine DOES NOT come with the Suction Feet or Magnet Feet.